Steam Valve Inspection - Lestallum
First Available: Chapter 8
Other Requirements: Complete Chapter 7 of the game's story
Location: Lestallum
Rewards: 2,000 EXP & 2,500 EXP
This quest is the first in a chain of quests that becomes available when you complete Chapter 7 of the game's main story; speak with Holly (pictured above) to start it. For this quest what you have to do is run around Lestallum and inspect 8 different Steam Valves.
An example of what you're looking for is shown in my screenshot below. Basically what we're looking for is 3 blue tubes which come out of the ground and have steam coming out of them.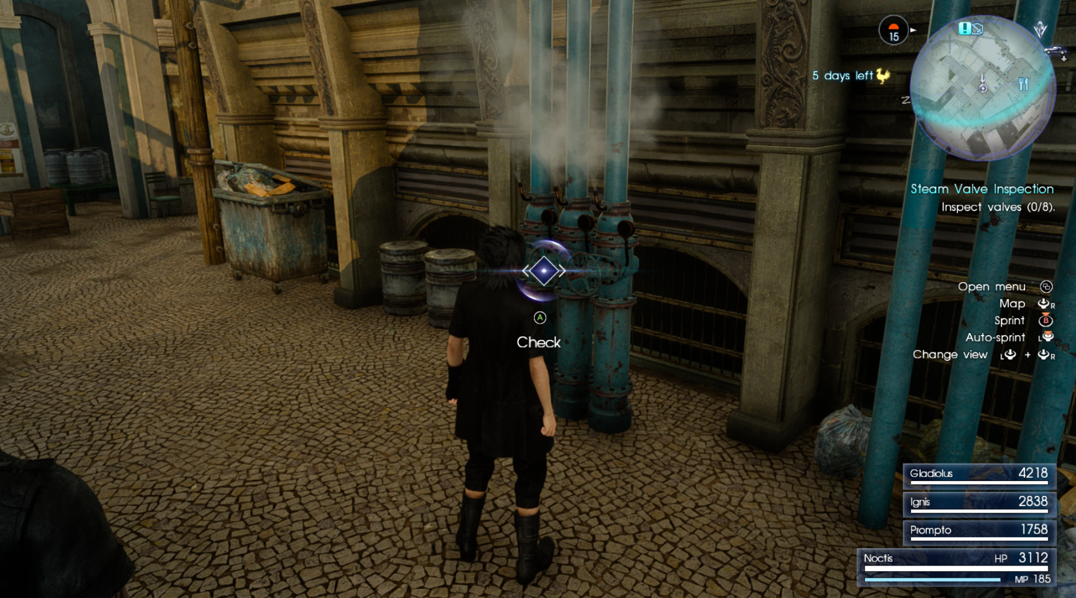 To make finding these Steam Valves easier, I have included a list of all 8 and where you can find them in Lestallum. If you'd like to see the compass/map locations of each Steam Valve then use my screenshot below, each one is marked with a white checkmark.
Steam Valve #1: Right down the stairs from Holly
Steam Valve #2: In the same area as Steam Valve #1
Steam Valve #3: Right next to the Diner
Steam Valve #4: In the alley northeast of the Diner
Steam Valve #5: Right next to Steam Valve #4
Steam Valve #6: Close to the main road going in and out of Lestallum
Steam Valve #7: Down the alley from Steam Valve #6
Steam Valve #8: On the border of the quest area, on the side of the building with the Diner

Steam Valve Map Locations (White Checkmarks).
There is only a single Steam Valve that isn't shown on my compass; it's the one that is right in front of me in the screenshot above. Once you've located all 8 of the Steam Valves return to Holly to turn in the quest.